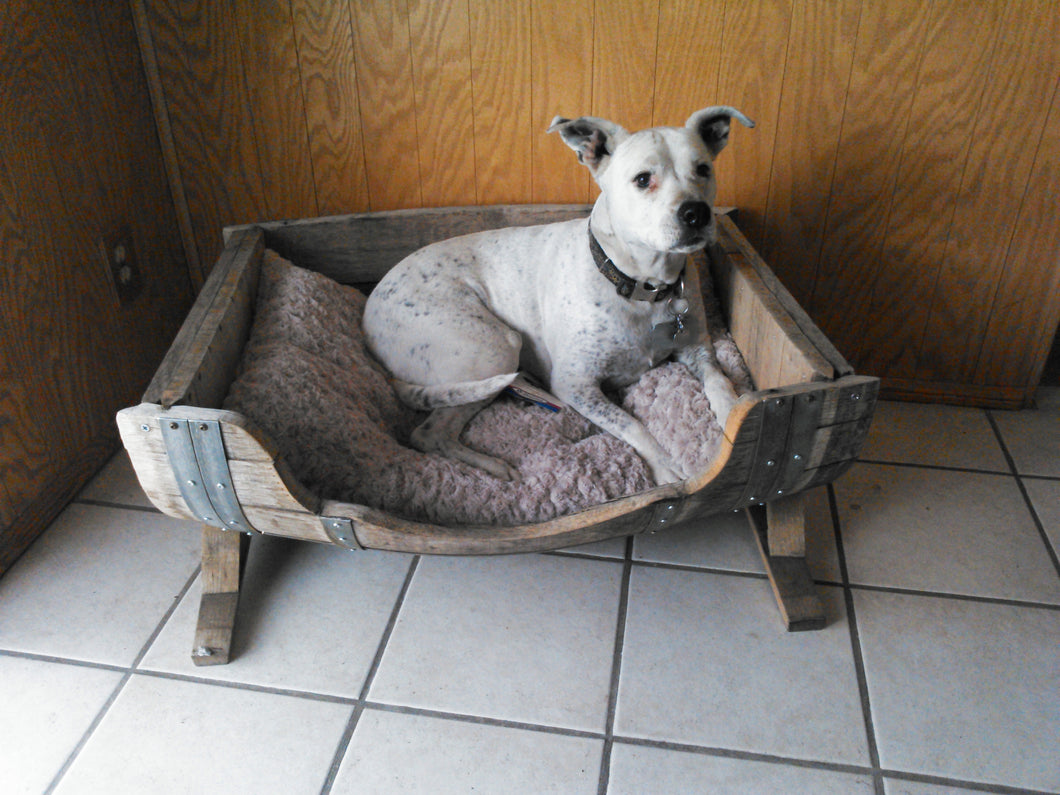 Rustic Wine Barrel Horizontal Dog Bed
Regular price $362.00 $240.00 Sale
CLEARANCE SALE!
Display Model - 1 only
Who doesn't love their dog? So why not pamper them? Give them a bed they'll love. It's comfortable, secure, and yet elegant and the envy of all.  Watch it become a conversation piece. The pet bed will add a special touch or ambiance to your room. 
RECYCLED: The wine barrel horizontal dog bed shows us the end of a real wine barrel with its hoop, rack and wine stains. The interior will be stained in red wine or white wine.   The fact they are also made from retired wine barrels adds a special touch for those who are sensitive to ecology and recycling.
UNIQUE: The wine barrel horizontal dog bed is made of 1" solid white oak and weighs about 50 pounds.  The bed sits on a stand to keep it steady. It is rustic by design. The horizontal bed is made for the larger dog or multiple small dogs or cats. We use a safe Danish oil with a medium walnut stain and a food safe walnut wax to finish the pet bed. We find that each barrel takes the stain and oil in its own way along with their markings being slightly different, hence no dog beds will be the same.  We decided not to include a dog bed cushion as we feel pet owners will want to select their own based on their pets needs. 
HAND CRAFTED: It is hand crafted by us with love and quality in mind here in California, USA. This was a display model in our showroom.

Dog and Dog bed cushion are not included.  
Please note that although the same care and quality is put into all of our products, there will be natural variation due to the wood selection (either French or American white oak), wood figure, winery or cooperage markings, wine stains from the inside of the barrel, and other factors. No two pieces will be identical and each has its own story to tell! 

Horizontal Dog Bed Materials: 
Wood - white oak wine barrels
Danish Oil - medium walnut
Food Safe Walnut Wax
Approximate Dimensions:  37"L x 27"W x 15"H
At Evans Family Barrels, we custom hand craft every product to order. Please allow us ample time to make a good quality product.  
Handcrafted by us in California, USA!