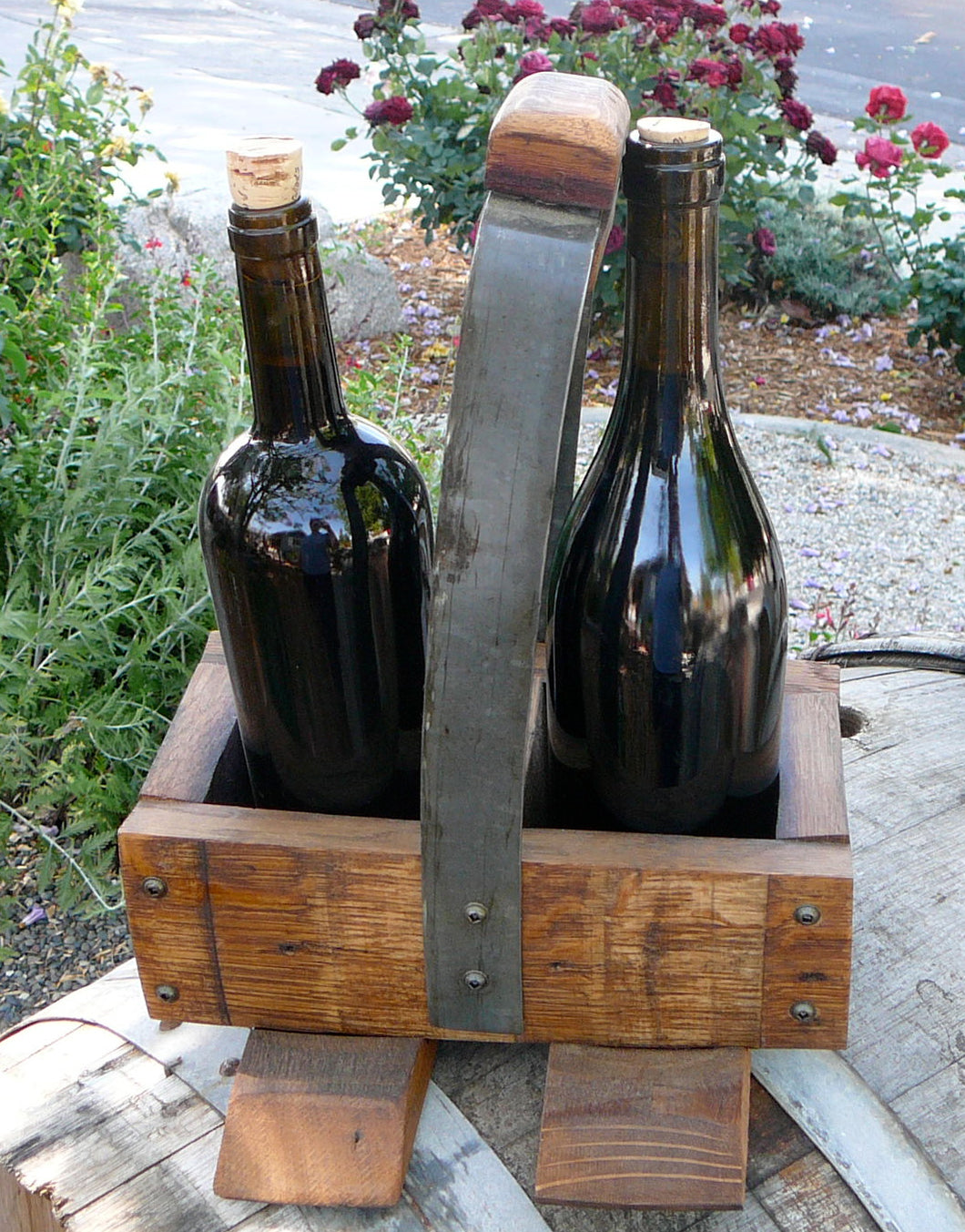 Rustic Wine Barrel Stave Wine/Beer 2-Bottle Carrier
Regular price $239.00 Sale
The wine barrel 2-bottle carrier is lovingly handcrafted with quality in mind. It allows you to carry that special wine or beer to your party with style. These 2-bottle wine carriers are a unique gem! Use it indoors or outdoors. 
RECYCLED: The rustic wine barrel 2-bottle carrier is made entirely from barrel staves and uses a barrel hoop for a handle to give it stability and strength. It gives us the wine soaked inside of the barrel and the outside of a real wine barrel and may come wine stains or other markings. It is sanded down smooth and finished with Danish oil. The fact they are also made from retired wine barrels adds a special touch for those who are sensitive to ecology and recycling.
UNIQUE: The 2-bottle carrier is made from a repurposed wine barrel staves. Each carrier is made from 1" solid white oak, a hard, sturdy wood. It uses a barrel hoop as a handle to provide strength. It will endure and last a long time. It is rustic by design. All wine barrel staves with their markings are slightly different, so no two carriers will be the same.
HANDCRAFTED: It is handcrafted by us with love and quality in mind here in California, USA. Every product is custom made to order.  Please allow us up to 2 weeks after payment to create your carrier.
CUSTOMIZE: Please call or email us if you wish to further customize it. 
Please note that although the same care and quality is put into all of our products, there will be natural variation due to the wood selection (either French or American white oak), wood figure, winery or cooperage markings, wine stains from the inside of the barrel, and other factors. No two pieces will be identical and each has its own story to tell!
 2-Bottle Carrier Materials: 
Wood – white oak wine
Barrel Hoop
Danish Oil – medium walnut
Approximate Dimensions:  10"L x 11"W x 14"H
At Evans Family Barrels, we custom hand craft every product to order. Please allow us ample time to make a good quality product.
FREE SHIPPING within the 48 contiguous states.
Handcrafted by us in California, USA!